Fairy Cakes
Feb 4, 2022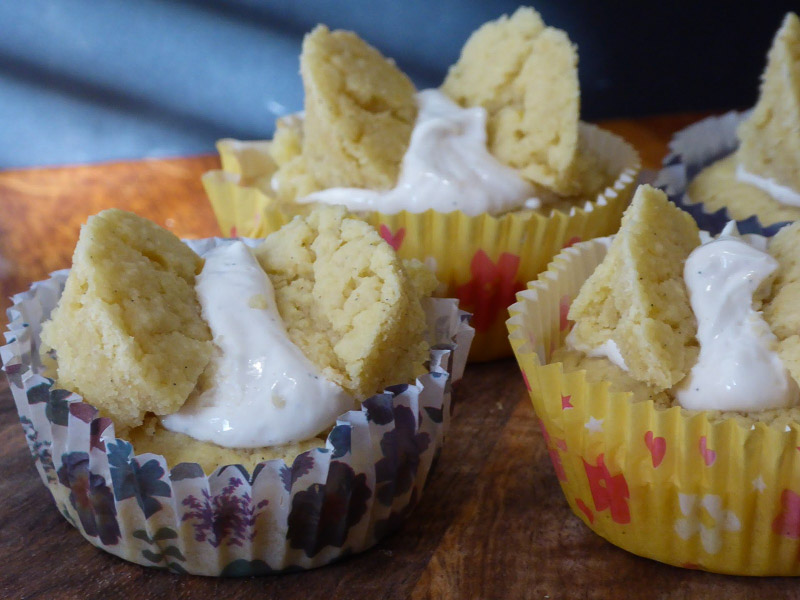 Anyone remember these from your birthday parties when you were a tiddler? I think the last time I made some was probably as teenager on Sunday afternoons. I used to love that a fat pocket of sumptuous icing (the best part), sat right in the middle of these cakes – rather than perching prissily on the top. That way you got a gorgeous dollop of cream with every cakey mouthful.

These little heart throbs have gone down a storm with everyone who's scoffed them. And they're so easy to replicate with low carb, low sugar ingredients. The mix just needs a touch more flavour adding, to compensate for the gentler sweetness. A slightly larger portion of vanilla paste, along with a little lemon zest travelling incognito, is just enough to do the job. And what's more, Sunday afternoon is coming round.....
4 eggs
5 tbsp erythritol
2 tsp vanilla paste
85g butter
225g almond flour
Zest of lemon
1 tsp baking powder
Pinch salt
Whisk the eggs, sweetener and vanilla paste.
Melt the butter in a pan and add to the mix.
Grate the lemon into the bowl.
In a separate bowl measure out the almond flour. Add the baking powder, salt and mix well.
Add to the cake batter and blend well
Spoon out into the paper cake cup thingys. And pop the whole lot into the oven on a tray


Bake at Gas Mark 4 for 25 minutes or until a knife in the centre comes out clean. Cool on a wire rack and store in the fridge.

Posted in: