Parsnip and Orange Sandwich Cake
Jul 24, 2021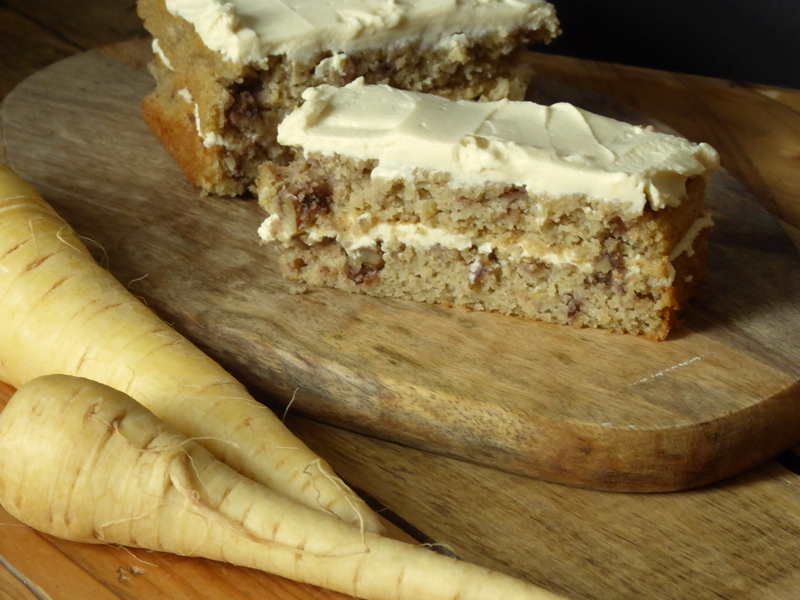 I love browsing food recipes in bookshops, particularly recipes for sinful sweet treats. They can usually be adapted to a minimal sugar, low carbohydrate version with a little scheming. When I stumbled across the notion of a sandwich cake that combined orange and mixed spice, my heart was won.

And what better champion to help replace the original recipe's white flour and bring some texture and earthy sweetness to the venture, than the humble parsnip?

Although this is a sandwich cake - which are normally round, the ingredients below make enough cake batter to bake 2 x 23 cm square cakes. Unless I'm feeding a sizeable number of hungry cake chums in one go, I find a square/ or rectangular cake a more convenient shape for cutting in two and storing one half in the freezer. That way you can ensure you're eating lovely fresh cake. Plus a freezer with ample supplies of low sugar/carb frozen cake in it is a comforting thought – well for me at least it is. (NB Freeze your cake without icing though. Make and add it to the cake when its fully defrosted)

If you have a food processor, this cake is beyond simple to make. You just throw in the ingredients in sequence, as explained below and Bob's your proverbial. But if you don't - a grater, a bowl and a whisk will do the job just fine.

300g parsnips chopped roughly
1 apple cored and chopped
4 eggs
4 tbps xylitol
200g melted butter
200g ground almond flour
3 tsp mixed spice
2 tsp baking powder
75g walnuts
15 drops of orange extract (I recommend the Medicine Flower extracts - expensive but heavenly). Alternatively use the zest and juice of a small orange
Pinch of salt

FOR THE ICING (Halve the quantities if you're just icing half the cake and freezing the remainder)
400g mascarpone
4 tsp ground xylitol
5 drops of orange extract (Or zest of small orange).

Pre-heat the oven to 160C/Gas Mark 3.
Line 2 x 23cm square cake tins with baking paper.
Put the chopped parsnips and apples into the processor and whizz until fine crumb texture. (Alternatively grate them).
Add the eggs, sweetener, spice, melted butter and orange extract. Whizz until blended well.
Mix the almond flour, salt and baking powder in a bowl.
Add to the cake batter and whizz until fully mixed.
Pour the cake batter evenly between 2 cake tins.
Chop the walnuts and distribute and scatter evenly between both cake tins.
Push the chopped nut pieces into the cake mixture and smooth over the surface of the cake batter.
Bake for 25-30 minutes. Check the cakes are cooked by putting a knife or skewer into the centre. If the cake is cooked they will come out clean.
Cool the cakes slightly for 10 mins in the tins. Then turn them out onto a wire rack to cool fully.
Once cool, make the icing by mixing the mascarpone, orange and sweetener together smoothly.
Apply half to the top one of the cakes. Place the other cake on top and spread the remaining icing on top.
Posted in: