Toffee Banana Cake
Jan 7, 2021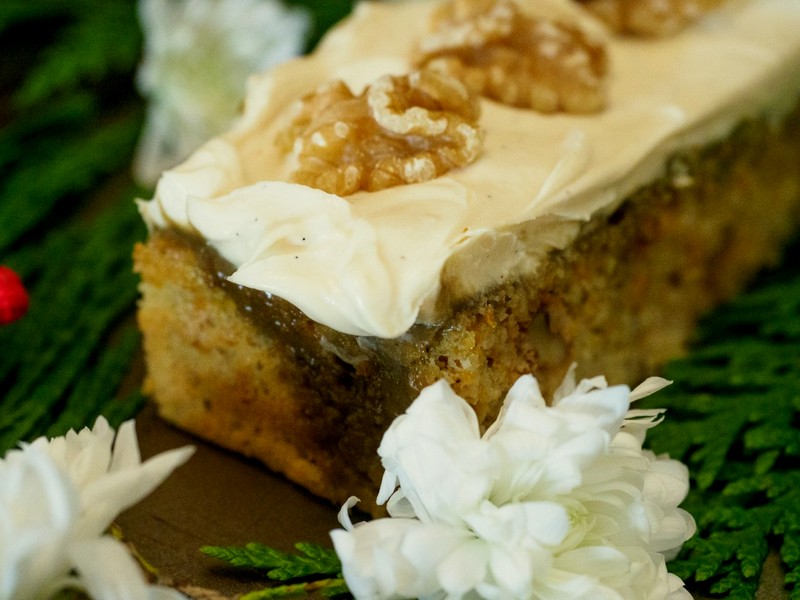 My New Year's resolution this year is to find new ways of adding vegetables to my low sugar cakey treats.
It's an interesting undertaking (to me anyway) and already, a deliciously moist and light-sponged world is opening up. . Take this opulent banana and toffee sponge, for example. Three gorgeous layers - soft banana sponge, then caramel goo, covered with a generous, creamy topping. It's so soft and welcoming, you need to approach it respectfully, with a spoon or a pastry fork. No bare-handed face stuffing with this sensual creation. Take your time, light some candles and make a special occasion out of it.

While you're letting the warm caramel and banana flavours roll easily over your taste buds, rest happy in the knowledge that this cake is contributing to your 5 a day too, whilst at the same time, it's reducing some of the extra costs that often come with replacing refined sugar and wheat flour with natural healthier ingredients.

If you have a food processor, you can mix pretty well everything up in the processor bowl. It's that simple. Maximum baking satisfaction. Minimal washing up.

For the sponge:
4 eggs
3 tbsp xylitol
2 tbsp syrup (I use yacon syrup as it's low sugar and has a great flavour)
275g butternut squash - chopped
100g almond flour
50g coconut flour
2 tsp baking powder
2 tbsp psyllium husks
150g sliced banana (about a 1 ½ bananas)
80g roughly chopped walnuts (plus a few whole walnuts for decoration)
Pinch of salt

For the cream:
250g mascarpone cheese
2 tbsp of Erythritol Brown Sugar Replacement ground down to icing sugar consistency. (Xylitol is a good second option)
1 tsp vanilla essence
1 tbsp yacon syrup

For the toffee layer:
3 tbsp oil
3 tbsp smooth peanut butter
4 tbsp yacon syrup.
10 drops of caramel essence

Chop the butternut squash into pieces (about 1 inch square) put in the food processor and whizz until very finely chopped.
Add the eggs, sweeteners and banana. Whizz some more.
In a separate bowl, sieve the coconut flour, add almond flour, psyllium husks, baking powder and salt and mix together well. Add to the ingredients into the blender and whizz until smooth.
Chop the walnuts and stir into the mixture in the blender bowl.
Pour the cake batter into a 23 cm cake tin lined with baking paper.
Bake in a preheated oven 350F/180C Gas mark 4 for 35 minutes. (Check that the cake is cooked by putting a knife in the centre to see if it comes out clean).
Leave the cake in the tin for 15-20 minutes and stand on a wire tray. Then remove the cake from the tin and continue to cool on the tray.

For the toffee layer, mix the ingredients together until smooth and spread over the sponge once it has completely cooled.
Mix the mascarpone icing ingredients, adding sweetener to taste, until smooth. Spread generously on top of the caramel. Decorate with whole walnuts.
Posted in: