Pistachio cardamom and Yogurt Cake
Jul 3, 2020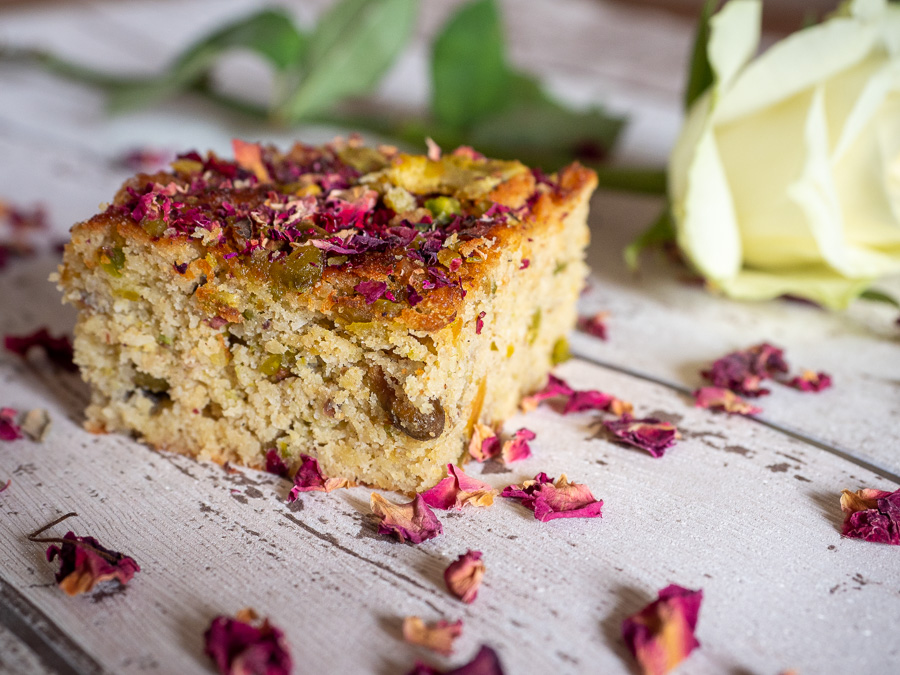 This little beauty tastes every bit as heavenly as it looks. Bite into this cutey and your lucky tastebuds get to enjoy a seductive combo of cardamom, warm buttery sweetness with a nuanced after-zing of fresh lime. Pistachios always move a cake up the luxury scale for me. I find their unique flavour incredibly moreish. It's a wonder they made it from the jar to the mixing bowl. And their gorgeous decorative spring green colour light up the top of any cake.

The original white sugar, white flour version of this recipe used to be a favourite of mine to bake and scoff. So it was great to affirm that it's entirely possible to significantly reduce this cake's sugar content using healthier ingredients, without diminishing in any way its charm and flavour.

The finished cake is soaked in a syrup. For this I tried out a new natural sweetener called allulose. I don't know whether you've noticed, but granulated natural sugar replacements, like xylitol and erythritol aren't as versatile to cook with as refined sugar. You can't caramelise them for example. They don't dissolve too well either – which presents a bit of a challenge if you like adding sauces, syrups and toppings to your cakes and desserts. It would seem however that allulose manages to nail both. I haven't tried caramelising it yet but when I used it to make the lime syrup for this recipe, I'm happy to say it dissolved a treat. No trace of any grainy residue.
For the cake:
150g pistachio nuts
150g melted butter
4 eggs
3 heaped tbsp coconut flour
100g almond flour
75ml plain yogurt
4 tsp cardamom powder
1 ½ tsp baking powder
3 tbsp xylitol
Grated zest of 2 limes
Pinch salt
1 lime

For the syrup:
Juice of 1 ½ limes
100 ml water
2 tbsp allulose*
For the decoration:
50g ground pistachio
2 tbsp ground dried edible roses

Pre heat Oven 350F/180C Gas mark 4.
Line a 23 cm cake tin with baking paper.
If you have a food processor, lob the pistachios in there to chop them. If not, pop them in a plastic bag and bash them thoroughly with a rolling pin.
Whisk eggs and xylitol together until light and bubbly.
Melt the butter in a pan then add slowly into the egg mixting thoroughly.
Add yogurt and lime zest and blend in well.
In a separate bowl mix together thoroughly the coconut flour, almond flour, chopped pistachios, baking powder, salt.
Slowly add the dry ingredients to the wet mixture and blend well.
Spoon into the baking tin and smooth over evenly with the back of a spoon.
Bake 30 - 35 mins. If using a fan oven, turn the tin around halfway through to help it cook evenly. Test to the cake is cooked by inserting a knife in the centre. It should come out clean. If not, return to the oven for a few minutes more.

To make the syrup:
Put the sweetener into 100ml water and lime juice and dissolve over low heat.
Bring to the boil and simmer 5 minutes.
Pierce the cake all over with a fork or skewer then pour the syrup evenly over cake.

To decorate:
Put the pistachios into an electric grinder. Scatter the powder over the top.
Then put the rose petals into the grinder – give them a little whizz to break them down a bit and scatter around the pistachios.

*To buy Allulose: https://mydiet-shop.co.uk/-sweeteners/1322-sensato-allulose-all-natural-sweetener.html
Posted in: