Flapjack
May 30, 2020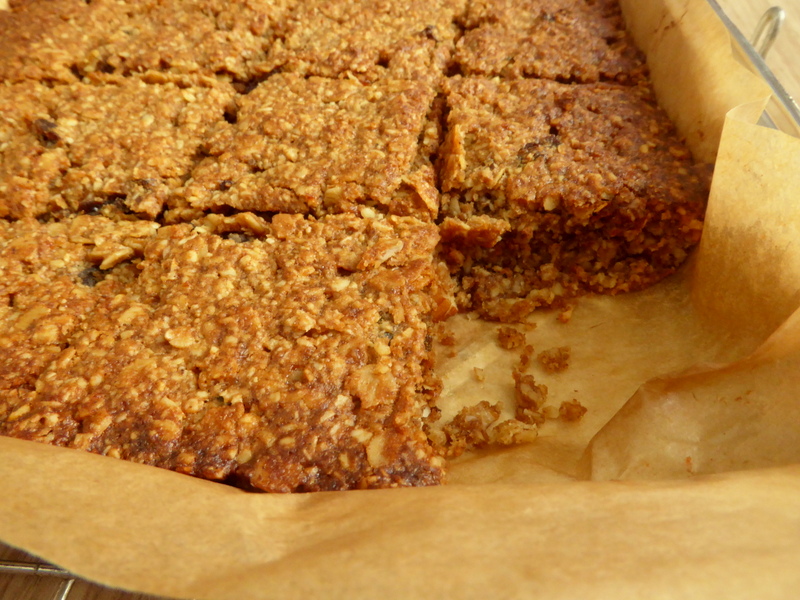 Let's face it, flapjacks are the Julie Andrews of the cake world really, aren't they? They don't have the frivolity nor kerbside appeal of a good chocolatey or iced toppingy type of cake. But as a wholesome and satisfying sweet snack, they're unbeatable.

In the years I've cut out sugar, I've missed flapjacks. They're delicious principally because they're sweetened with sticky syrup rather than table sugar. Golden treacle, molasses or maple syrup usually provide the main sweetness. This makes them a bit of a challenge to replicate successfully. I've heroically baked and chomped through several versions to arrive at this final recipe. The predecessors were either a tad too dry or austere to cut the mustard. But perseverance paid off finally. This low sugar flapjack is a gorgeous gooey affair that's jam packed with flavour.

The recipe contains more sweetener than I would normally use and generous quantities of spices. Oats are a bit worthy and bland at heart. Subtler flavours disappear without a trace in them. Flapjack's traditional treacle stickiness is replicated with the help of yacon syrup. Yacon syrup is a natural low sugar alternative that doesn't come cheap, but if you're serious about cutting out or down on sugar this syrup is so versatile and flavoursome, it's worth the investment. I've also used a second sweetener - a "brown sugar replacement" version of the sugar alcohol sweetener erythritol. This has a warmer sweetness than plain erythritol or birch xylitol. But if shelling out for this as well is a bridge too far – use either one of them instead and add extra caramel flavour to compensate. See links below for both sweeteners.

The ingredients below also include some vegan alternatives provided courtesy of my good friend Siu Ming Hart, from when she tried out the recipe.

https://www.amazon.co.uk/Erythritol-Gold-500g-Natural-Alternative/dp/B0718XCCB9

https://www.indigo-herbs.co.uk/shop/buy/organic-yacon-syrup?gclid=CjwKCAjwkPX0BRBKEiwA7THxiLEUwMfWA5_R3DhkR9rCzZp0x4kqSYglr-Y1SD8yAHegmFyZU5y3whoCWn0QAvD_BwE

200g oats
150 ground almonds
3 heaped tsp cinnamon
3 heaped tsp ground ginger
4 tbsp erythritol
5 tbsp yacon syrup
4 tbsp oil
4 tbsp smooth nut butter
100g melted butter (for vegans – replace with Vitalite)
1 egg (for vegans replace with 1 ½ heaped tsp chia seeds + 1 tbsp water
50g chopped prunes
30g chopped almonds
15 drops of caramel essence

Preheat the oven to Gas mark 4/180C
In a bowl mix the oats, ground almonds, spices, erythritol, chopped prunes and chopped whole almonds together.
In a small bowl, mix together the oil, nut butter and yacon syrup to a smooth paste.
Slowly add the melted butter to the dry ingredients. Then add the beaten egg and yacon syrup paste.
(If you are using the chia egg, soak the chia seeds in water for a few minutes to thicken, then add to the mix).
Add the caramel essence, mix well.
Turn the mixture out onto a baking tray lined with baking parchment. Press the mixture down evenly across the tray.
Cook for 25-30 minutes until golden brown.

Posted in: