Ginger Cake
Nov 21, 2019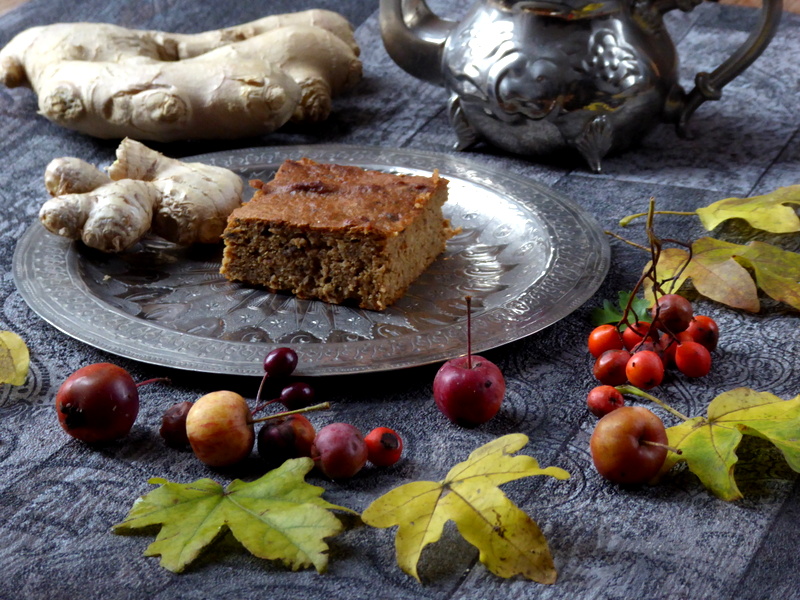 It's an ongoing voyage of discovery making low sugar, low carb cakes. From time to time there are baking trays of disappointment when experiments don't work out as anticipated. Equally though there are the thrills and triumphs. Take this ginger cake for example. Any old fool can make a standard issue ginger cake. Just whack in some black treacle and/or molasses along with some eggs and flour, empty some golden syrup on top of that - then move the furniture well back, ready for the impending sugar rush. Easy peasy....

But how do you make low sugar ginger cake without all that syrup, without yummy crystallised ginger, without ending up with some unappealing offering that tastes bland or weird?

It's a cake conundrum I've been consumed with for a while as I adore ginger cake. And thankfully I've finally seen the light, with the help of two zero/low sugar sweeteners I've recently started using with some great results. Sukrin Gold is an erythritol based sweetener that replicates the taste of brown sugar well. Similarly Lakanto Maple flavoured Syrup, made from a natural zero sugar sweetener called monkfruit, does what exactly what it says on the tin. (You'll find a link to a supplier on the resources page).

Lo and behold this Winter beauty! It's gingery and spicy and full of warm flavour. It's low in sugars, low carb and gluten free. It's moist and moreish and it's begging to be baked. It's time to call up your cake friends and put the kettle on….

400g tinned prunes in fruit juice
5 eggs
75g salted butter
200g ground almonds
4 tbsp Sukrin Gold
4 tbsp Lakanto Maple Flavoured Syrup
4 round tsp ground ginger
½ tsp ground nutmeg
½ tsp mixed spice
1/8 tsp cayenne pepper
10 drops of butterscotch or similar caramel flavouring
1 tsp baking powder
Pinch of salt

Pre-heat the oven to 350F/180C Gas mark 4
Strain the fruit juice from the prunes and rinse with water. Cut out the stones and leave to drain.
Line a 23cm cake tin with baking paper
In a bowl mix the dry ingredients – ground almonds, baking powder, spices and salt.
Whizz the prunes and eggs in a food processor. (If you don't have a food processor a hand held electric soup whisk should blend the prunes enough).
Add the sweeteners and melted sugar.
Pour into the cake tin and bake for 40 minutes until a knife or skewer comes out clean.
Cool on a wire rack.


Posted in: