Rasmalai Cake
Oct 4, 2019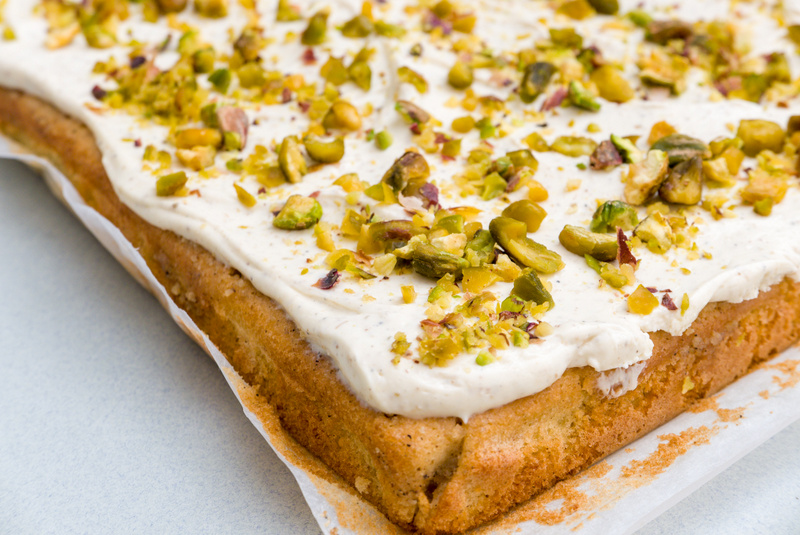 Fancy something a bit different with your cuppa? This gorgeous little sweet treat is based on a traditional Indian recipe. Interestingly though, its refined, fragrant flavours and soft, delicate texture make it seem a quintessential English teashop cake.

Rasmalai cake and I first met just a week or so ago when I saw a Facebook photo of one my cake loving friends had made. Unsurprisingly, as with most traditional cake recipes, Rasmalai's staple ingredients are white sugar and white flour, with a dollop of condensed milk or similar milk syrup thrown in. The version I've come up with uses a light almond flour batter, a little birch xylitol and generous amounts of flavouring to compensate for the kinder, subtler sweetness.

I think this cake is one my favourites to date. Whether you're raising a dainty pastry fork full of it to your lips against the genteel sound of clinking china or wiping its lovely crumbs from your gob as you prepare to snarf down the next mouthful at the back of a bus – take it from me, you'll find this cake a winner. It's a cardamony champ of champions.

For the syrup:
1/3 cup of almond milk
1 tsp ground cardamom
1 tsp rosewater
1 tbsp ground xylitol

For the cake:
4 eggs separated
3 tbsp xylitol
1 tbsp cardamom
2 tbsp rosewater
1 tsp vanilla essence
165g ground almonds
1 tsp baking powder
85g butter
Pinch of salt

For the icing:
250g mascarpone cheese
1 tbsp ground xylitol
½ tsp coconut nectar
1 tsp monk fruit maple syrup (optional)
1 tsp cardamom
1 tsp rosewater
Handful of bashed pistachio nuts.

To begin add the cardamom, rosewater and ground xylitol to the milk and heat it gently in a saucepan to simmering point - taking care to not let the milk boil or bubble. Keep stirring on the heat for about 10 minutes. Leave to cool.
Whisk the egg whites in a bowl until they are stiff.
In a separate bowl whisk the eggs, sweetener, rosewater, vanilla, cardamom until the mixture is light and frothy. Slowly add the melted butter and mix well.
Add almond flour, salt and baking powder.
Finally gently fold in the egg whites until blended.
Pour into a 23cm baking tin, lined with baking paper
Bake at Gas Mark 3 for 50 minutes – check after 40 minutes by putting a knife into the centre to see if it comes out clean. Cover with foil if it needs further baking.
Leave to cool on a tray.
When cool make little holes all over the cake and little by little pour the milk syrup over the cake so that it is absorbed.
Mix the icing ingredients together and spread generously over the top.
Bash a handful of pistachios and sprinkle over the top.
Stand back for a moment to admire your work before you tuck in.
Posted in: