Millionaire's Slice
Aug 2, 2019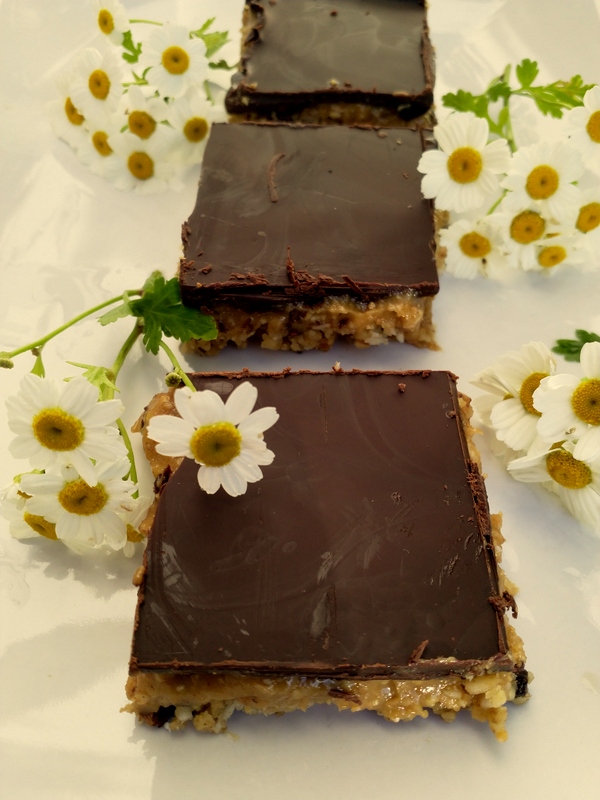 In my previous life, when I was wolfing down sugary treats on a regular basis, the thought of a Millionaire's slice - shortbread, covered in thick caramel squidge, topped off with a fat dollop of chocolate – was often a compelling one. However the experience didn't use to match up. Millionaire's slice in reality was searingly sweet- even for a seasoned old cake fiend like me - and way too rich. Stomach ache in a baking tray basically.

But once again, this is a cake tale with a happy ending. I've recently found a way of making a delicious, very low sugar alternative and I'm champing at the bit to share the recipe and spread the love. This chocolatey, caramelly, gooey, delight delivers just enough sweetness to tickle the fancy and no more. It satisfies without overwhelm too. No cake eater's remorse with this one. But don't take my word for it. Give it a go!
For the bottom layer:
250g walnuts
30g dessicated coconut
2 ½ tbsp. melted coconut oil
2 tsp vanilla essence
20g cacao nibs
1 Medjool date (soaked) and cut into small pieces
1 ½ tbsp. Peruvian carob (optional)

For the caramel layer:
170g smooth nut butter.
4 tbsp melted coconut oil
4 tbsp yacon syrup
1 tsp caramel essence (optional)

For the chocolate layer:
100g 100% cocoa solid plain chocolate
100g no added sugar plain chocolate
½ tsp coconut nectar
½ tsp coconut oil

Put the walnuts in a food processor and pulse until broken into small chunks.
Put into a bowl and add the coconut, cacao nibs, vanilla essence, carob and date pieces. Mix well.
Pour in the melted coconut oil. Stir well.
Press the mixture evenly and firmly into a 23cm x 23 cm baking tin, lined with cling film with baking paper on the base.
Put into the freezer to chill for 20 minutes.

Mix the nut butter, yacon syrup and flavouring together.
Pour in the melted coconut oil. Combine well.
Spread evenly over the nut base.
Pop back into the freezer to chill.

Meanwhile break the chocolate into pieces in a heatproof bowl, add the coconut oil and melt over a pan of simmering water until smooth.
Stir in the coconut nectar.
Pour evenly over the top of the caramel layer.
Put into the freezer until the chocolate is completely set (about 20 minutes).
Cut into pieces with a sharp knife.
Store in the fridge.
Posted in: