Jo's Spiced Apple Cake
Oct 12, 2018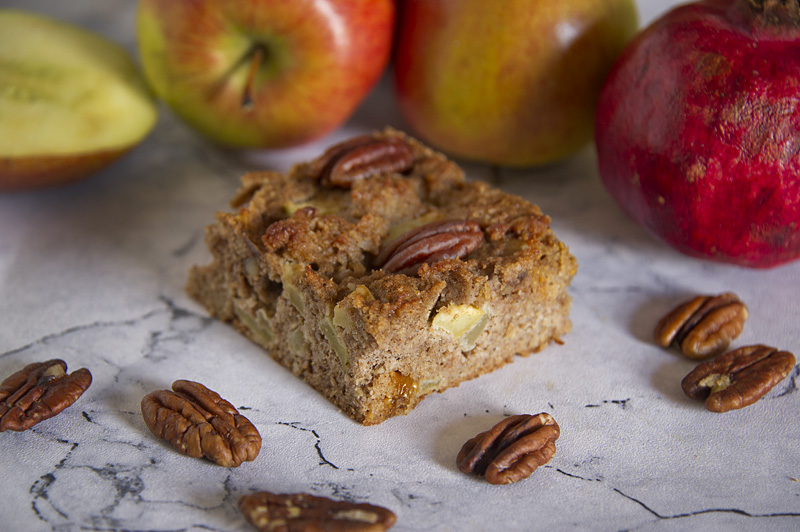 Jo Dance from Joy Food Revolution shared a lovely apple cake recipe on the Still Sweet Without Sugar Facebook group recently. It was shared as
part of a thread about baking with coconut flour. I tried it and I'm here to testify that it definitely stands out from the apple cake crowd. It's a little gem and very moreish. I seem to be totally incapable of following a recipe without tampering with it these days but I can vouch that I followed her recommendation to add a generous quantity of mixed spice to the letter. I'm so glad I did. It gives this apple cake such warmth, richness and wallop. Thanks for sharing the lovely recipe Jo, I'm going to be baking it lots.

It's the season for gorgeous, tart British apples. You don't even have to buy them at the moment, desperate people are giving them away outside their houses. What are you waiting for?
This is the version I made.....


2 apples diced small
100g coconut oil or butter
125g almond flour
25g coconut flour
1 tsp psyllium husks
3 heaped tsp mixed spice
1 tsp cinnamon
½ tsp baking soda
½ tsp salt
3 tbsp xylitol
5 eggs
1 tsp vanilla essence
25g chopped golden (inca) berries (or sultanas if you're less concerned with your sugar intake)
100g chopped pecans or walnuts plus some extra whole pecans for decoration.

Put the coconut flour, almond flour, psyllium husks, spices, salt and baking soda and mix well together.
Blend the eggs with the xylitol and vanilla essence.
Slowly add the dry ingredients to the egg mixture.
Add the melted butter or coconut oil and mix well.
Add the chopped nuts and golden berries and stir in.
Finally add the chopped apples and pour the mixture into a 23cm cake tin lined with baking paper.
Put in a preheated oven at Gas mark 3 325F/170C for 40-50 minutes until a knife put in the centre of the cake comes out clean.
Invite a chum to come and eat a slice with you while it's still warm.
Store in a container in the fridge.
Posted in: