Chocolate Orange Ganache
Jan 25, 2019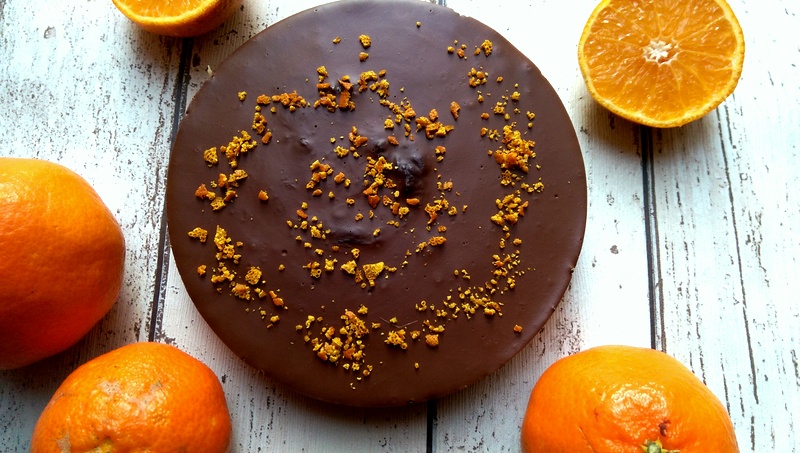 I confess I had no idea what a ganache actually was until Anna Middleton, raw food chef, gave me this vegan version of one. I'm so happy she enlightened me. If you don't know either, it's the smooth, velvety and very moreish result you get when you combine melted chocolate with cream – or in this case – coconut cream. It's very easy and quick to make too, which is always appreciated as far as I'm concerned.

I've added a little orange essence to the ganache because it kept whispering in my ear to do it. You may find it's coaxing you to add some other flavour, in which case- go for it. But rest assured it tastes delicious enough as it is. Especially as it comes with a yummy, crunchy, coconut base, infused with a little hint of coffee.

The quantities below are for a small 16cm cake tin.

For the base:
50g seeds (sesame, poppy, sunflower)
30g flaked coconut
2 tsp ground erythritol
10g Peruvian carob
½ tsp ground coffee
1 ½ tbsp. melted coconut oil
1 tbsp yacon syrup

For the ganache:
45g cacao paste
100g coconut cream – the liquid stuff that comes in a carton, rather than the block
1 tsp ground erythritol
1 tsp coconut nectar
8 drops of Medicine Flower Orange Extract

Line the bottom of the cake tin with some baking paper and lightly cover the sides with some coconut oil.
Mix the seeds, coconut, carob, coffee together in a bowl.
Melt the coconut oil over a gentle heat and stir in the yacon syrup.
Mix with the dry ingredients, pour out into the cake tin and press down evenly.
Pop into the freezer for 30 minutes or so to harden.
Melt the cacao paste in a bowl over a pan of gently simmering water.
When it's melted stir in the coconut cream, sweetener and flavouring.
Pour on top of the bowl and put into the freezer for 30-40 minutes to set.
Keep in the fridge.
Posted in: