Wallop Pudding
Jan 15, 2019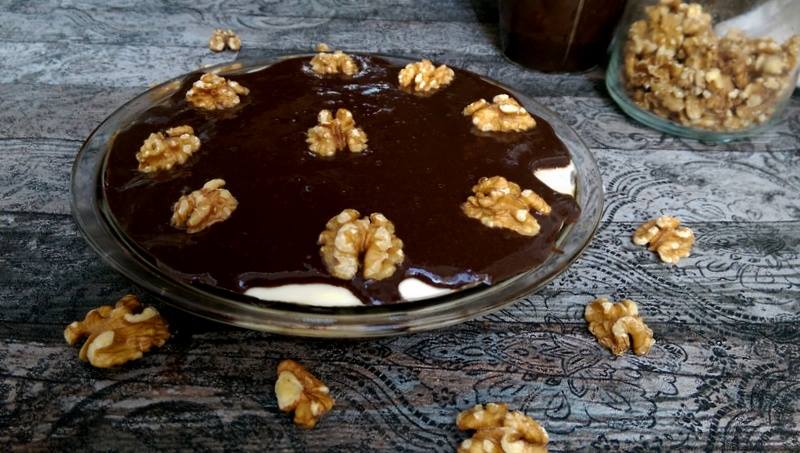 I'm really fond of this pud. The top part of the pudding - the banana, coconut and carob layers – was an invention of good friend of mine a long time ago, back in the last century. I came along and added an oaty base, topped with a caramelly date jam layer to give his demure little dessert some wallop. And verily, on an auspicious day many years ago, Wallop Pudding was born!

This trusty pud fell by the wayside in recent years, mainly because it contains quite a few dates. Dates are a tad sugar laden if you're watching your sugar consumption carefully. However it gives me great pleasure to announce that Wallop Pudding has just reincarnated. This time its evolved into glorious, low-sugar-diet-friendly form. I've replaced the date layer with a yacon syrup and nut butter combo and added a few drops of caramel essence to tease. This pudding is so toffeeish, so wonderfully warm flavoured and comforting, no wonder I missed it so much. If you fancy a surge of pud delight, don't hold back, give it a go. You won't be disappointed.

Base
75g oats
20g chopped walnuts
25g coconut oil or butter
1 tsp ground ginger

Next layer
5 tbsp yacon syrup
5 tbsp smooth unsweetened nut butter
5 tbsp oil
15 drops of caramel essence

Next layer
1 ½ medium sized bananas
150g coconut cream (in a a block)
10fl oz almond milk

Next layer
2 ½ tbsp. dark carob powder
1 ½ bananas
3fl oz almond milk
Whole walnuts to decorate

Melt the coconut oil in a pan, add the oats, ginger and chopped walnuts.
Coat all the dry ingredients in oil and turn out into a oven proof dish. Press down evenly across the base of the dish with a spoon.
Pop in the freezer for 15 minutes for the base to cool and become firm.
Mix the yacon syrup, oil, peanut butter and caramel essence together well.
Spread it generously over the cooled oat base.
Put a layer of sliced bananas over the yacon syrup goo.
Put the coconut cream and almond milk in a pan and melt together over a gentle heat, stirring constantly. The mixture should be the consistency of a thick béchamel sauce. Add a little more milk if necessary.
When blended pour evenly over the top of the bananas.
Blend the bananas, milk and carob powder into a smooth sauce.
Pour over the coconut layer, leaving a little of the white coconut around the edges, cos it looks nicer that way.
Decorate with walnuts.
Cook in a preheated over at Gas Mark 6 400F/200C for 20 minutes.

This pudding is lovely eaten warm or cold.
Posted in: