Turkish Cake
Dec 15, 2018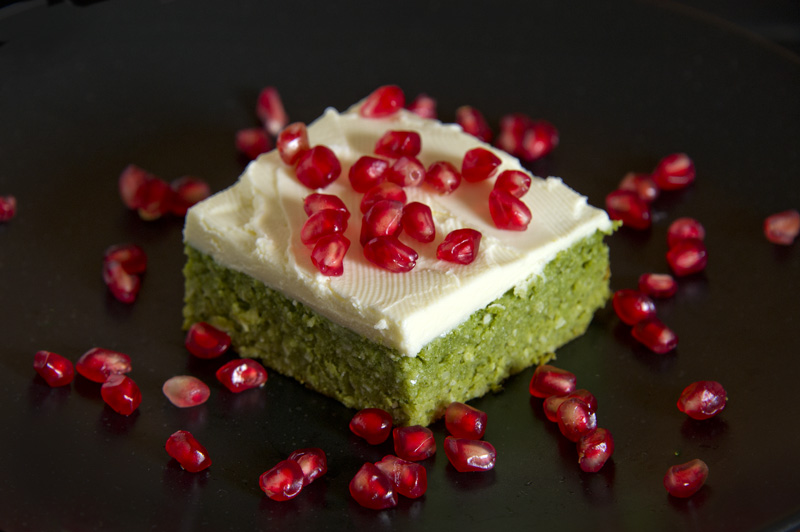 By heck! this cake looks like it's all dressed up for a night on the town. What a beaut!
This cake's seasonal colours make it a great refined sugar free alternative to traditional Christmas cake, plus it's a darn sight lighter. If any of your friends and family are nervous of cakes with veg in them, best keep quiet about the spinach. Let the taste and texture win them over first. While the spinach gives the cake it's handsome colour and a nutritional boost, there's absolutely no trace of its taste. It's the fresh zingy lemon that steals the flavour show.

For the cake:
4 eggs
1 tbsp vanilla essence
4 tbsp erythritol
200g fresh spinach
Zest and juice of 2 lemons
3 tbsp lemon flavouring
1 small banana
200g almond flour
3 tbsp coconut flour
2 tsp baking powder
Pinch of salt
For the topping:
280g marscarpone cheese
6 drops of stevia
1 tbsp lemon flavouring
Pomegranite seeds for decoration.

Put the washed spinach, eggs, banana, sweetener, vanilla, lemon zest and juice into a blender and whizz until it's smooth.
In a large bowl, mix the almond flour, coconut flour, baking powder and salt together well.
Slowly stir in the blended ingredients and mix thoroughly.
Pour into a 20 x20cm cake tin, lined with baking paper.
Cook in a preheated oven at Gas Mark 4, 350F/175C for 40 minutes, or until a knife inserted in the middle of the cake comes out clean.
Leave to cool on a wire rack.
Meanwhile mix the topping ingredients and add to the cake when it's completely cooled. Scatter with pomegranate seeds.
Store in the fridge.
Posted in: