Apple Quinoa Cake
Nov 27, 2018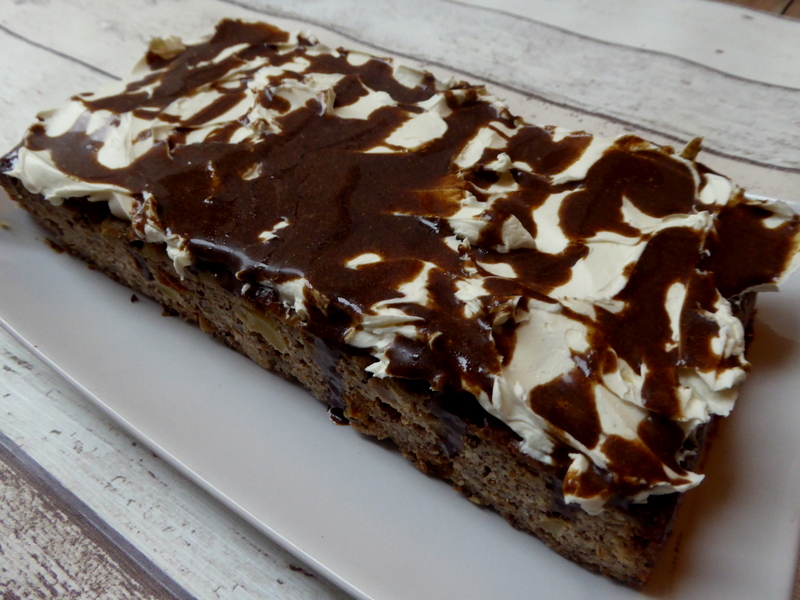 I never thought the day would come when I'd say "quinoa" and "cake"in the same sentence, but the world of sponge is a wonderful and mysterious thing.

A friend gave me a recipe recently for a quinoa cake made with refined sugar. With some nips and tucks here and there I've come up with a version that's low in sugars with some fruit and spices added. It's always interesting to come across a cake recipe that triumphs without the use of wheat flour. Quinoa is still fairly high in carbohydrate but it's high in protein and a veritable nutrition bomb. This cake is surprisingly light even though it's up the wholesome end of the cake spectrum. It would probably make a great breakfast muffin, but I've brought a little frivolity to it here by adding a creamy topping with a cinnamon syrup drizzled over the top.

For the cake:
150g quinoa
150g hazelnuts
50g butter or coconut oil
5 eggs separated
1 tsp baking powder
2 tsp ground cinnamon
3 tbsp erthyritol and 15 drops of stevia
3 tsp vanilla essence
50g chopped golden berries (replace with sultanas if you don't have to be so careful with sugars).
2 small apples
Pinch of salt

For the topping:
225g marscarpone cheese
10 drops of stevia
10 drops of apple essence

For the optional Cinnamon Drizzle:
1 ½ tbsp. of yacon syrup
1 ½ cinnamon

Tip the quinoa onto a baking tray. Tip the hazelnuts onto another and place in oven at Gas Mark 4 – 350/180C for 20 minutes until both are golden brown.
Pour the quinoa into a saucepan with 400ml water and bring to the boil. Simmer gently for about 15 minutes until the water is absorbed and the grain burst and cooked soft. Spread on a dinner plate to cool.
Grind the nuts in a food blender.
(I usually prepare the nuts and quinoa the day before so all the ingredients are at the ready when I want to start the cake).
Keep the oven at Gas Mark 4 – 350/180C.
Heat the butter in a saucepan then remove from the heat and keep somewhere warm.
Beat the yolks with the erythritol, stevia and vanilla essence until fluffy.
In a separate bowl beat the egg whites with the baking powder until thick.
Fold the quinoa, hazelnuts and cinnamon and chopped berries into the yolks then fold in the egg whites and melted butter.
Chop the apples into small pieces and add to the mix.
Pour the mixture into a 23 cm cake tin lined with baking paper.
Cook for 45 minutes until the centre of the cake feels firm to touch.
Put on a tray to cool.

Mix the cream cheese, sweetener and flavouring together. Ice the cake when cool.
Mix the yacon syrup and cinnamon together thoroughly and drizzle over the top.
Store the cake in the fridge.
Posted in: