Grasshopper Pie
Oct 20, 2018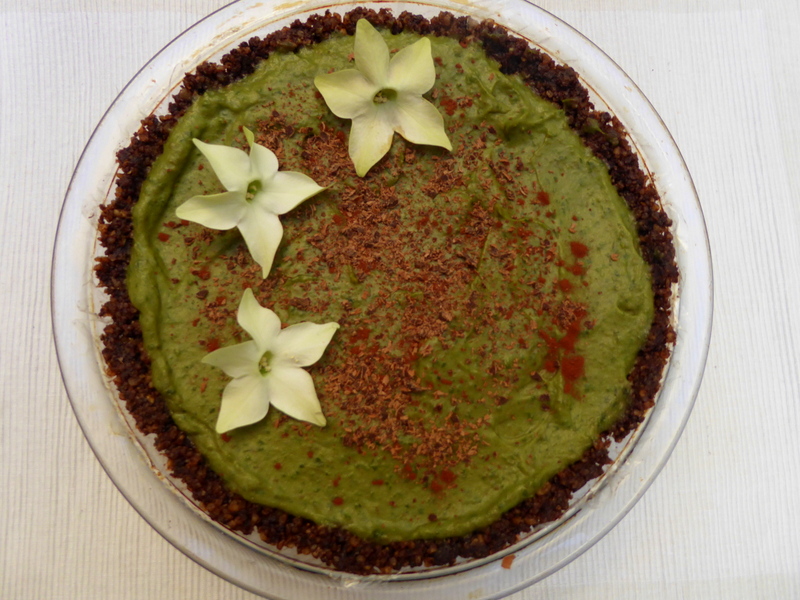 This little minx of a pie is light, minty, chewy and chocolatey. What's more it's choca block (forgive the pun) with nutritious wholesome ingredients – avocado, spinach and walnuts. . The avocado makes the filling creamy and smooth, the spinach gives the pie colour and attitude the chocolatey base delivers comfort and joy. This pie is gluten free, dairy free, raw and vegan.
Chocolate crust:
175g walnuts
2 medjool dates pitted and chopped
3 tbsp cacao powder
1 tsp vanilla essence
1 ½ tbsp coconut oil
Pinch of salt

Mint filling:
2 ½ ripe avocadoes
15g spinach leaves
1 tbsp yacon syrup
3 tbsp powdered sweetener*
4 tbsp coconut oil
1 tbsp vanilla
3 tbsp mint extract
Pinch of salt
For the crust:
Whizz the nuts a food processor.
Add chopped dates, cacao powder, vanilla essence and salt and whizz some more until well mixed.
Turn out into a bowl and stir in the melted coconut oil.
The mixture should have started to stick together a bit. Add a little water if necessary.
Turn out into a medium sized pie dish (Mine is around 7 ½ inches)
(If you want to take care the pie doesn't stick to the dish) line beforehand with baking paper or clingfilm.
Press the mixture into the dish taking it up to the sides.
Put in the freezer for a couple of hours to harden.

For the filling:
Whizz avocadoes and spinach in a blender until smooth.
Add powdered sweetener, yacon syrup, vanilla and mint essence and salt and whizz some more.
Finally add the melted coconut and turn out into the pie dish.
Put in the freezer for an hour until the filling has cooled.
Sprinkle with cacao powder or grated no added chocolate (or both!).
Store in the fridge.

*for the sweetener I've used erythritol, a sugar alcohol that comes in granulated form. I've whizzed it down to icing sugar consistency so it blends into the topping.
Posted in: