Seb's Mango and Banana Ice-cream
Sep 4, 2018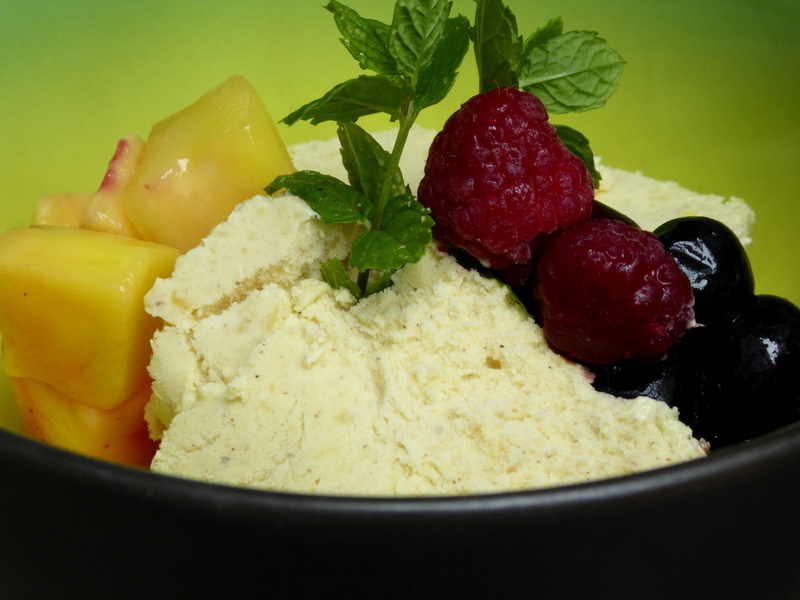 As the last drops of Summer are squeezed out, I'm taking the opportunity to share this sexy little ice-cream recipe. It's so tangy and exotic. But equally I could imagine it being just as welcome as a cooling, palette-cleansing desert on a Winter's night, after a hot spicy meal.

My friend Seb sent me this recipe. She gave me a list of ingredients but no indication of the amounts she used, so I've experimented a little to get the proportions I like. This is a great simple recipe. The fruit and the spices speak for themselves, there's no added sweetener. In Seb's version she's added sultanas and nuts - which you could use as an optional extra – especially if you want to go for more richness and sweetness. Sultanas are pretty high in sugar – and as mango and bananas are already up the sugary end of the spectrum for fruit, I've gone for zing instead and just added a little lemon juice to the fruit.
200g frozen mango chunks
2 small bananas sliced and frozen
225g clotted cream
½ tsp cinnamon
1 tsp ground ginger
1 tbsp lemon juice
Let the frozen fruit defrost for about 15/20 minutes until they're a little less rock hard, then whizz in a food processor. (Fasten your seatbelt – it's going to be a bumpy ride).
Add the cinnamon, ginger, lemon juice and clotted cream and whizz the mix some more until it's thick and creamy.
Plonk into a plastic container and store in the freezer until you want to eat it.
Actually once you've made it, you'll want to eat it all the time. Replace that for - until you reasonably want to eat it in some sort of sensible quantity.
Posted in: