Nutty Fudgey Chocolate Lumps
Aug 16, 2018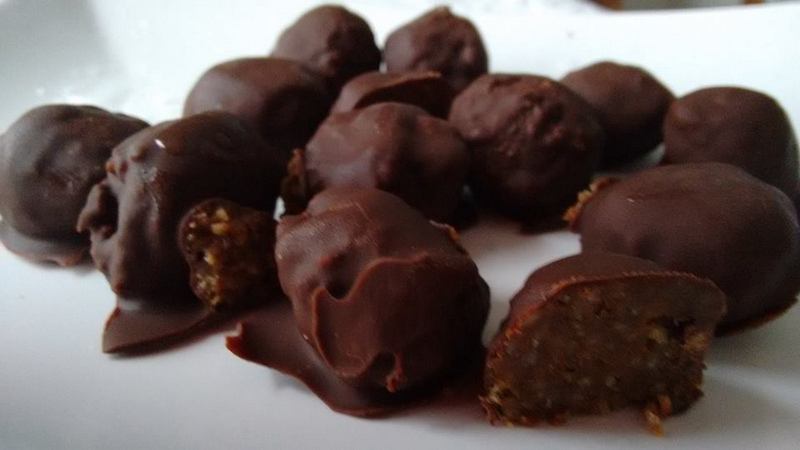 Oh sweet Jesus...... I've just made these GORGEOUS chocs.
I've adapted a recipe by Anna Middleton, a raw food chef whose wonderful raw chocolate workshop I attended a couple of years ago. The changes I've made are driven purely by idleness. In her original recipe, she uses brazil nuts as the filling and hand makes the chocolate. Walnuts are a staple in my kitchen – brazil nuts are a rarer visitor. Plus I've cheated and used a no added sugar plain chocolate bar, courtesy of the local supermarket. Handmade raw chocolate does have the edge. However I've compensated for the blander taste by adding a few drops of caramel essence. It works so well with the Peruvian carob - you can practically hear them whispering sweet nothings to each other.
100grms walnuts
50 grms Peruvian carob (the golden naturally sweet stuff)
2-3 tablespoons of yacon syrup
Generous slosh of vanilla essence
Optional – few drops of caramel essence
40 grams sugar free choc (or make your own if you have the time) 1 tsp coconut oil.

Whizz the nuts in a blender until they're pretty mashed.
Add the carob – stir in.
Slosh in the vanilla and caramel essence.
Stir in the yacon syrup.
Get yer hands in and make the mixture into little balls. (Try not to eat it all at this stage).
Pop in the freezer for 10 minutes or so to cool.
Melt the choc in a bowl over simmering water.
Dip the little nutty ball things in the choc and then pop back in the freezer to cool off
Store in the fridge.
Posted in: