Banoffee Pie
Aug 3, 2018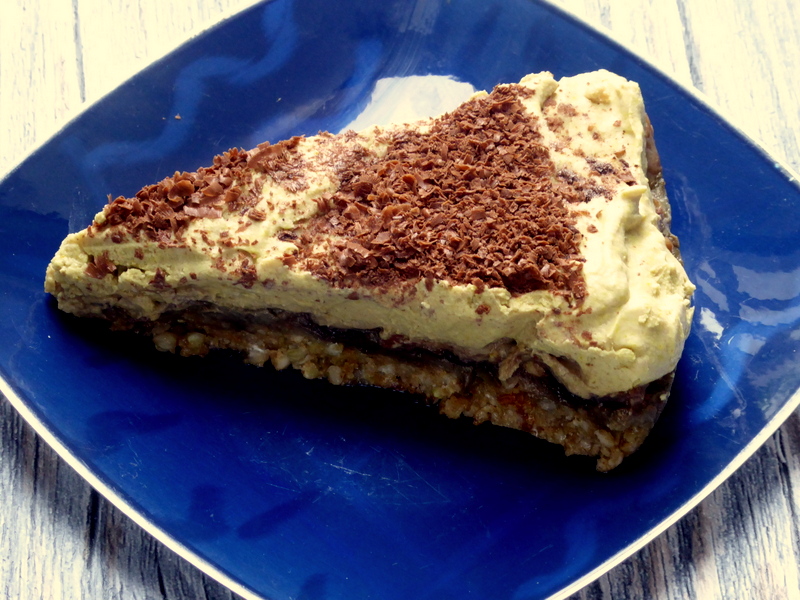 Amazingly, this banoffee pie delivers a glorious toffee flavour. For a pud made without caramelised refined sugar, this is a remarkable thing. The taste of toffee in this little miracle is mainly down to yacon syrup. If you've not come across it before, yacon syrup is a natural sweetener with a warm, caramel flavour that contains sugars that are not absorbed by the body. This is such a clever recipe, I wish I could say I'd invented it myself, but I can't. I've just slightly altered the amounts so the pie fits my flan dish and added a tiny bit of yacon to the topping. It's from a food blog by Kate Magic, a raw food chef. It tastes heavenly, it's easy to make, it's vegan and it's nut-free. It uses a fair amount of coconut yogurt which you need to re-mortgage the house to buy, but even that's not a downside cos it's easy enough to make your own with a couple of days notice. So this is a 2 part recipe – Part 1: Banoffee Part 2: Coconut Yogurt.
The Banoffee Pie

For the crust:
170g buckwheat (unroasted)
50g golden berries (or sultanas) chopped up small
50g maca
60g coconut oil
60ml water.
For the banana layer
3 ripe bananas sliced and soaked in lemon juice

For the Toffee bit:
3 tbsp yacon syrup
3 tbsp smooth almond or cashew butter
3 tbsp oil
15 drops of caramel flavouring

For the topping:
400g coconut yogurt (see recipe below)
50g lucuma
2 tsp yacon syrup
1 tsp turmeric

Grind the buckwheat until it's a lumpy flour. (Well that's the best my loyal little food processor could achieve).
Add chopped golden berries/sultanas.
Stir in maca, melted coconut oil and water until the mixture is a dough consistency.
Press into a 24cm flan dish/cake tin
Mix up the toffee ingredients and spread over the base'
Arrange the sliced bananas over the top.
Spread the topping over the whole lot.
Sprinkle with cocoa powder or some grated plain no added sugar chocolate.
Put in the freezer for 30 minutes until set.

Coconut Yogurt
200g of full fat coconut cream
2 probiotic capsules
350ml water

Sterilise 2 jam jars (put in oven 170C/Gas Mark 3 for 20 minutes).
Put the packet of coconut cream in a bowl of hot water to soften for 10-15 minutes.
When the cream is soft, massage the coconut to remove any lumps.
Squeeze the coconut out of the packet into a bowl and whisk in 350ml of boiling water.
Once cooled to hand temperature, stir in the powder from the probiotic capsules and put in the jars.
Keep the jars in a warm spot for 12 hours.
Store in the fridge.
Posted in: