Cherry and Almond Cake
Jul 26, 2018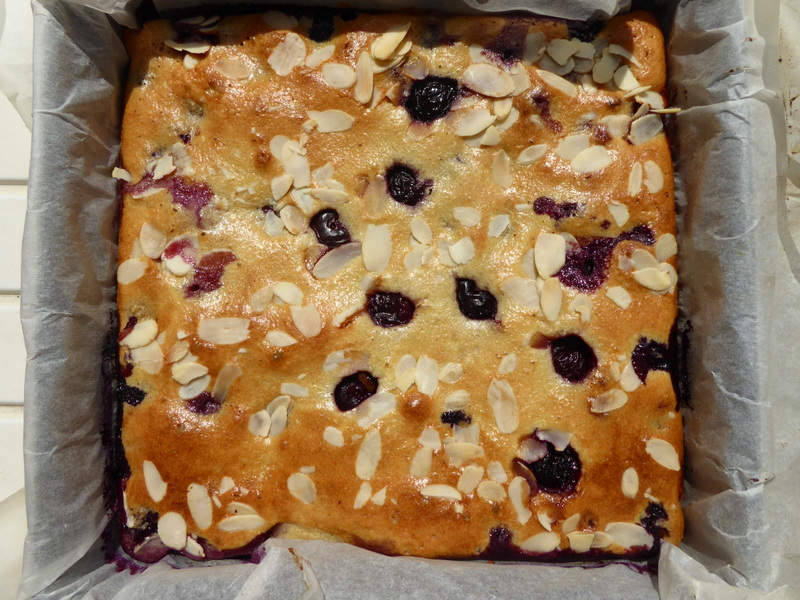 Call me old fashioned but I think Morello cherries are classy. Combine them with a sweetened spongey batter and you get the cake equivalent of the Bentley limousine. This is a dignified, understated little cake that goes down very easily. It's possible to buy pitted frozen Morello cherries these days. They are begging to be put in an almond cake. It's worth getting a reasonably good quality almond essence to complement the cherry flavour. The sweetness in this cake is fairly subtle so the cherry and the almond flavours need to steal the show.

300g frozen Morello cherries defrosted and drained
5 large eggs
3tbsp xylitol
10 drops of stevia
250g ground almonds
100g butter
100g coconut oil
1½ tsp baking powder
3 tsp almond essence
Pinch of salt
4tbs flaked almonds

Whisk the eggs, stevia, xylitol and almond essence until the mixture is light and bubbly.
Add the melted butter and coconut oil. Stir well.
Add the ground almonds, baking powder and salt and mix well until it is a fairly loose batter.
Add the cherries and pour into a 23cm tin lined with baking paper.
Scatter the flaked almonds over the top.
Bake at Gas Mark 3 325F/170C for 50 minutes.
Test with a knife poked in the centre to see if it comes out clean.
Let cool in the pan on a wire rack overnight.
Keep in the fridge.
Posted in: