Chocolate Avocado "Cheese" Cake
Jul 23, 2018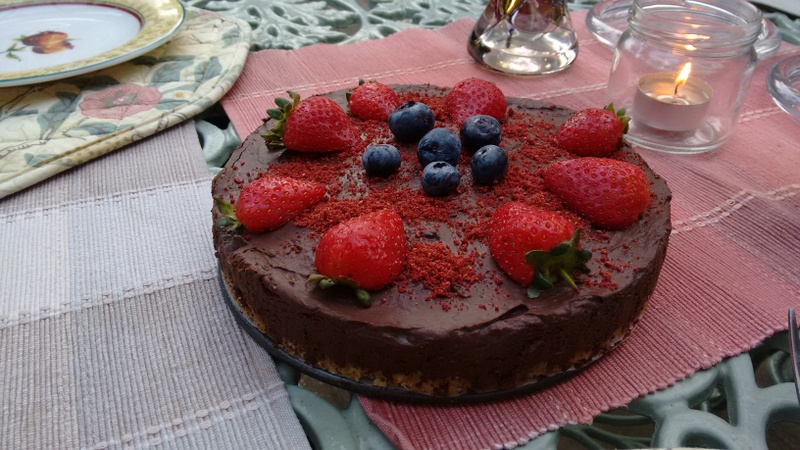 This delectable chocolatey dessert is vegan, gluten-free and diabetic friendly. Plus, let's face it, it looks pretty sexy too – making it a great recipe for a special occasion. In place of cream cheese the topping is made with avocados . They give the "cheese" cake a luxurious, creamy consistency and what's more, they're super good for you too. Woo hoo! Get stuck in.

For the base:
200g walnuts
2 dates chopped up small
2 tbsp Peruvian carob powder
Pinch of salt
1 tbsp coconut oil.

For the filling:
3 medium ripe avocados
100g coconut oil
1 tsp vanilla essence
1 tsp caramel essence
90 cacao powder
10 tbsp of yacon syrup

Strawberries, blueberries and dried raspberry powder for topping

Put the nuts in the food processor until fairly finely mashed.
Cut up dates in small pieces and add, along with salt, coconut oil and mix.
Press down into a 20 cm cake tin lined with cling film and freeze.
Put avocadoes, coconut oil, vanilla and caramel flavouring in the food processor and whizz til creamy.
Add cacao or cocoa and whizz again.
Add the yacon syrup.
Spread on the base and freeze for at least an hour.
Put in the fridge 30 mins before serving. Garnish with strawberries, blueberries and dried raspberry powder.
Posted in: