Nov 19, 2021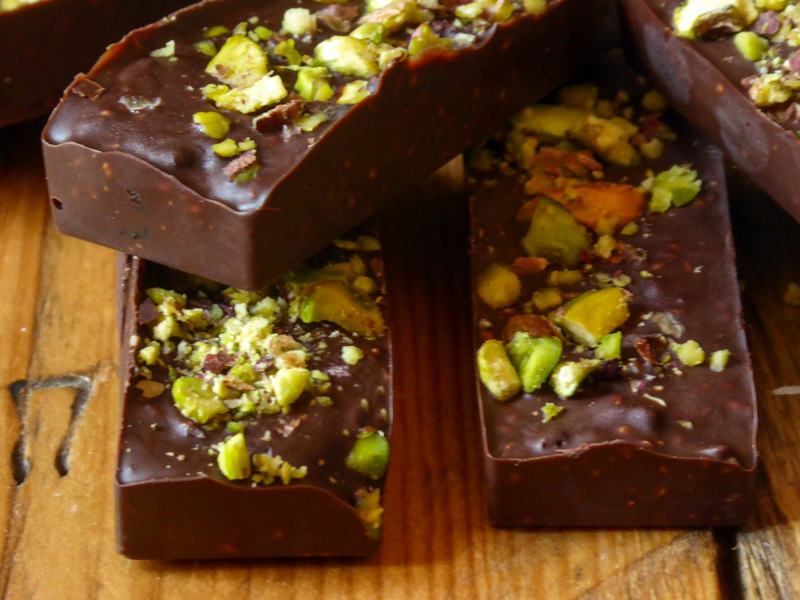 Do you ever find that cake just won't cut it sometimes (no pun intended) – what you really need is CHOCOLATE?
You need what now?
......CHOCOLATE!!!!!!

What if you could turbo charge that sublime chocolately treat even more with nourishing seeds and nuts and warm seductive flavours?

Put your pinny on, we're making tiffin. You won't need it on long either, this just takes minutes. It's dead simple.

200g no added sugar plain chocolate. (Or use 100% cocoa solid plain choc and add (ground) sweetener of your choice)
2 tsp coconut oil
1 tsp vanilla extract
2 ½ tsp ginger powder
50g bashed shelled pistachios
4 prunes chopped into small pieces
20g hulled hemp seeds
20g sesame seeds

Break the chocolate into a heat proof bowl add coconut oil and vanilla extract. Put the bowl in a pan of simmering water and let the chocolate melt slowly.
Meanwhile put hemp and sesame seeds in a bowl.
Add the chopped prunes.
Put the shelled pistachios into a plastic bag and bash them with a rolling pin until they are broken into small pieces. Keep approx. a quarter of them back for decoration and put the rest into the bowl of seeds.
Add the ginger powder and mix well.
As soon as the chocolate has melted, blend in the vanilla and coconut oil.
Add the seeds and fruit to the chocolate and turn out into chocolate bar moulds (The thickness is up to you - my bars were around 50-75mm deep).
(In the absence of chocolate moulds you could put use silicon cake moulds or a small baking tray lined with baking paper).
Sprinkle the pistachios over the top.
Pop into the freezer for 15 minutes to harden.
Keep in the fridge.
Posted in: