Mincepies
Dec 19, 2020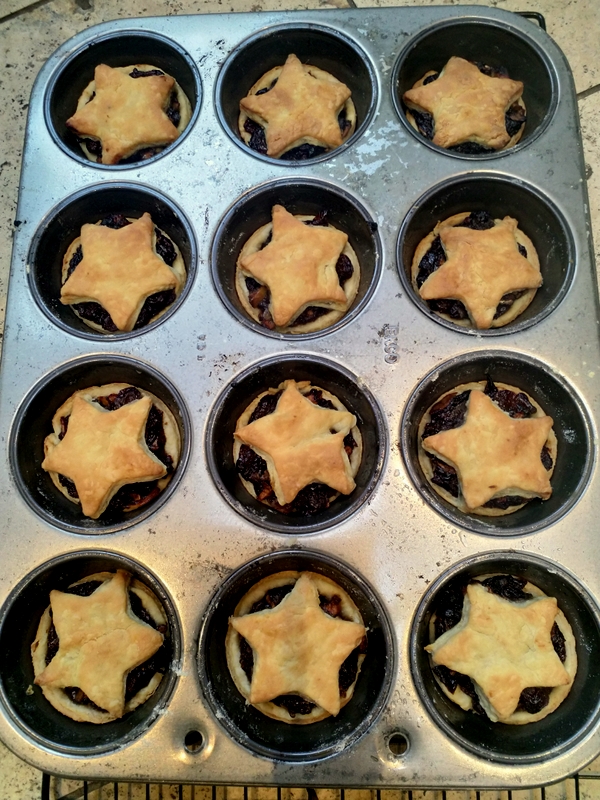 Is there such a thing as zero/low sugar mince pies?

No – is probably the short answer. But I've had a bash at making a much-reduced sugar version. It's Christmas, it's another month of lockdowns and Brexit is just around the corner. I'm up for loosening my corset a little and indulging in a seasonal sweet treat. How about you?

Although there's sultanas in this mincemeat, I've chosen prunes rather than currants or raisins to make up the rest of the dried fruit content. Prunes are lower in sugar and they also give a fabulous, rich, warm flavour to anything they're added to. I've also used fresh, chopped apple for some of the volume and a little bit of erythritol brown sugar replacement – which has pretty much zero sugar content.

And oh! sweet Jesus! They taste bloody lovely! Spicy, citrussy, with a gentle sweetness. All tenderly contained in a soft flaky pastry. They're especially blissful still warm from the oven.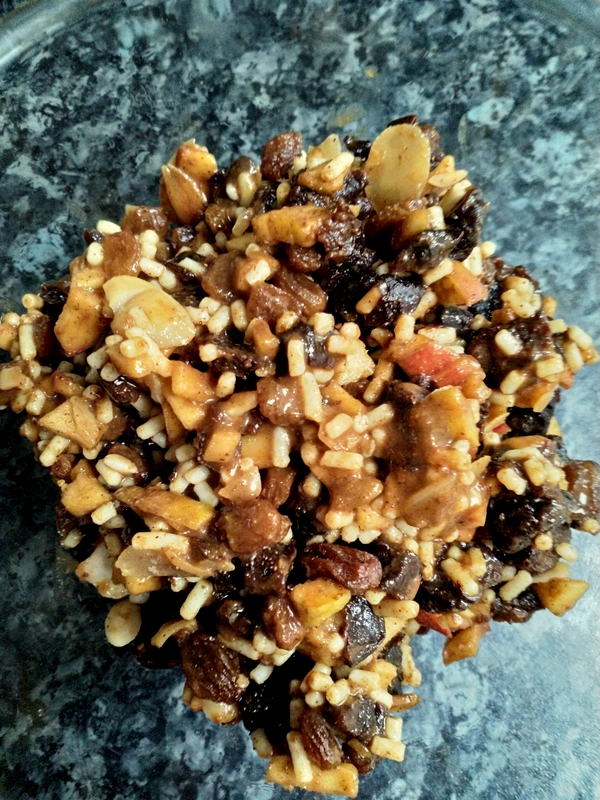 Mincemeat:
1 medium sized apple cored and chopped small
2 tbsp sliced almonds
2 tsp mixed spice
½ tsp nutmeg
½ tsp cinnamon
2 tbsp brandy
50g shredded veg suet
100g sultanas
150g chopped dried prunes
3 heaped tsp brown sugar replacement erythritol
Juice and rind of 1 orange
Juice and rind of 1 lemon
10 drops orange essence.

Combine all ingredients – except brandy. Cover the bowl with a clean cloth and leave in a cool place overnight to let the flavours meld. Then cover with bowl with foil and cook in the oven for an hour on a very low heat so that the suet melts. As it cools, the fat from the suet will come to the surface. It looks a bit alarming but don't panic. Just keep stirring it in from time to time until the mincemeat is cold.

Pastry: (If you have the time its worth taking the time to make it by hand rather than use ready-made, this method yields lovely, soft, flaky pastry)
180g unbleached flour
2 tsp ginger
1 tbsp xylitol (ground to icing sugar consistency)
70g grated butter
Pinch of salt
Cold water

Put the butter in the freezer for a 15 mins or so to get it really hard and cold.
Sieve the flour and ginger into a bowl.
Add salt and stir well.
Then grate the butter into the flour, stopping every so often to distribute the butter shreds into the flour evenly with a knife.
Add some cold water to the mix, a little at a time, stirring with a knife, and taking care not to over water. You need just enough water for the pastry to start to combine. Then get your hand in squidge the pastry together into a ball.
Cover the pastry in the bowl with a tea towel and pop in the fridge to cool for 10 mins or so.
Then roll out and cut out the pie bases.
Pop into lightly greased tart moulds. Spoon in the mincemeat and run a little water with your finger or a pastry brush around the edge of the pies, to help the pastry lids to stick to the bottom pastry securely.
Cut the pastry lids and pop them on.
Bake at 200C/400F Gas Mark 6 for 25 minutes.
Posted in: