Cashew Parsnip and Coconut Cake
Jan 23, 2020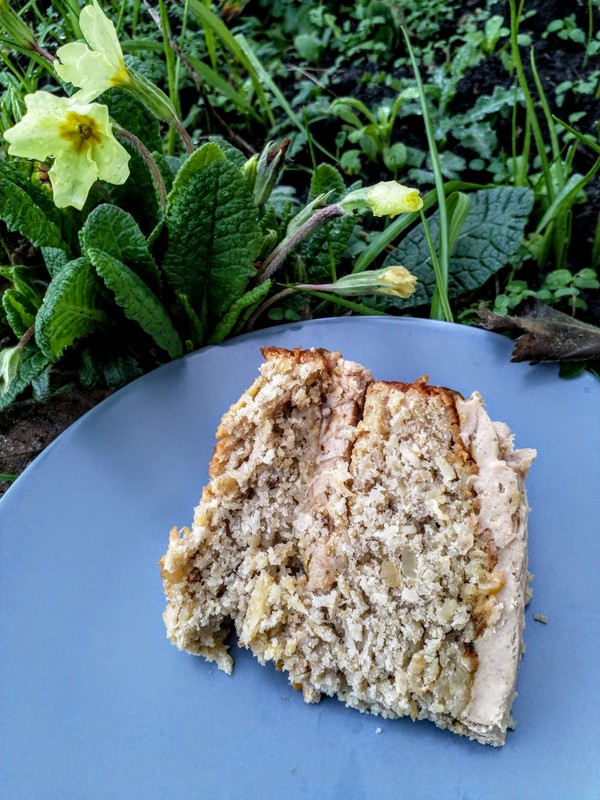 What could be a more heartening sign of Spring than this plumptious, little cake? This sweet offering is the result of some tinkering with a recipe that I found in a Leon cookbook. Coconut, cashew and parsnip – wow! It seemed such an intriguing combination, I couldn't resist further investigation. Admittedly to look at, this cake is beige, beige and beige - but who cares! It's a delightful stray from the norm and its bloody gorgeous too.

My version has a generous dollop of vanilla added. It goes so well with the natural sweetness of the parsnips, coconut and nuts. I chose a slightly less carby flour than the recipe suggested, used less butter – (the original uses a whole block!) and made 2 fillings as opposed to one. Namely a gorgeous toffee gloop made from yacon syrup and a cream cheese icing, flavoured with lucuma, to mimic the white chocolate topping recommended in the recipe.

If you find you have neither the time nor the inclination to fool around with fillings, this cake is so delicious and full of flavour, I reckon it would easily stand up for itself unadorned. You could cook it as a tray bake.

The quantities here are for 2 x 18 cm/7 inch cake tins. This makes quite a substantial cake. (Although me and me fella made short work of it in just a few days). If you've got more self-control and decorum than us, you could halve the ingredients below and bake just the one.

For the cake:
2 medium sized parsnips grated (about 250g)
100g dessicated coconut
150g buckwheat flour
200g finely chopped/ground cashews
2 tsp baking powder
4 eggs
5 tbsp birch xylitol
180g melted butter
3½ tsp vanilla paste
Pinch of salt

For the topping:
250g mascarpone cheese
1½ tsp coconut nectar
2 tbsp lucuma
6 drops of caramel flavouring (optional)
Toffee filling:
2 tbsp oil
3 tbsp yacon syrup
2 tbsp smooth nut butter
6 drops of caramel flavouring (optional)

Butter the sides of the 2 cake tins and line the bottom with baking paper.
Whizz the nuts for a nano second so that some of it is floury and some of it is still in small pieces.
Put the nuts in a bowl with the coconut, flour, salt and baking powder.
Whisk the eggs, sweetener, vanilla paste until light and bubbly.
Slowly add the melted butter continuing to blend with the whisk.
Add the coconut and flower. Mix well.
Stir in the grated parsnip.
Divide the mixture evenly between the two cake tins. Smooth the batter in the tins.
Bake in a preheated oven. Gas Mark 4. 180C/350F for 30 minutes. Keep cooking until a knife comes out of the centre of the cake clean.
Let the cakes cool completely on a wire rack.
Put a layer of the toffee over both cakes.
Cover with cream topping and put the cake together.
Store in a sealed cake tin.
Posted in: