Ginger and Caramel Peanut Biscuits
Nov 1, 2018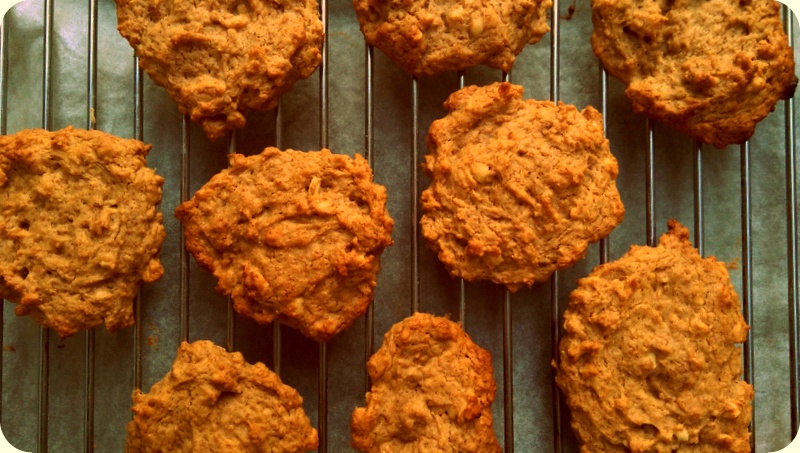 I did some research recently to try and find a brand of biscuits that were refined sugar free and low in sugars. It yielded absolutely nothing which I found surprising and a pretty dismaying - or is that just me? I assumed that there'd be one or two choices, given the focus on our over consumption of sugar these days. It's certainly not difficult to make biscuits that are low in sugars, as this recipe demonstrates.

I'd love to see the day when wholefood shop shelves, supermarket shelves, cafes and restaurants offer foods for people on low sugar diets in much the same way that they currently do for people who are gluten or dairy free. I confess, I don't fully understand what causes the inertia. However the situation is almost certainly hindered and confused by the emergence of "sugar free" or "low sugar" products that replace refined sugar with natural sweeteners such as maple syrup, honey or fruit juices and syrups. As these kinds of sweeteners are in reality, not a whole lot less damaging to our health, than Tate and Lyle, if taken in similar measure.

So for now, it looks like following a low sugar diet pretty much remains a DIY job. On the positive side, it's relatively easy to adapt sugary recipes and this cracking little recipe is no exception. It's also very quick and simple to make.
200g of peanut butter
75g soya milk
100g flour (or 50g flour and 50g Peruvian carob)*
2 tsp ground ginger
1 tsp vanilla essence
20 drops of caramel essence
3 tbsp of xylitol
½ tsp baking powder

Put the peanut butter, milk and vanilla and caramel essences into a bowl and mix until smooth.
Slowly add the flour and carob until the dough has a pastry consistency. Add a little more milk if necessary.
Mould into biscuit shapes on a tray lined with baking paper.
Cook for around 20 minutes at Gas Mark 4 / 350F – but check at around 15 minutes.

*Peruvian Carob powder (algarroba) not to be confused with dark carob, is honey coloured and has a earthy caramelly flavour. It's highly nutritious and it's a low glycaemic sweetener that adds a great flavour to biscuits and seed bars.
Posted in: